Eat. Drink. Vibes.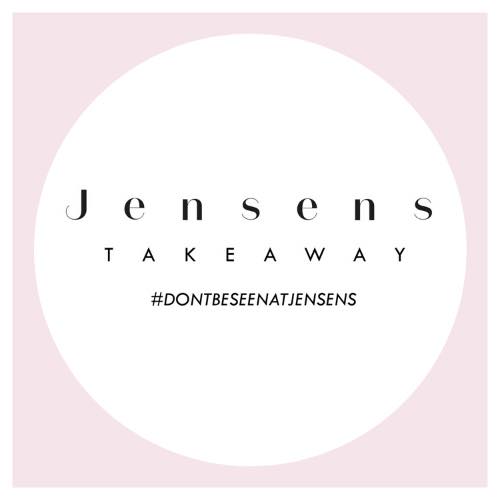 HOW TO ORDER
Simply call 9528 8433 and collect from our front door. When you call you will be told your pick-up time and you will also receive a text message when your takeaway is ready to be picked up.
Please be aware that cook times vary due to peak periods. Times vary between 15 minutes to 1 hour for takeaway so please factor that in to your takeaway and dining needs.
You will be asked to pay via credit card upon ordering!
Please note: We do not take pre-orders!
JENSENS AT HOME, take-away operating hours are as follows:
LUNCH: Thursday to Sunday 12:00pm until 3:00pm
DINNER: Wednesday – Sunday 5:30pm until 8:00pm
BREADS
10inch garlic and cheese pizza bread………10
10inch pizza bread with olive oil and herb salt………10
Flat bread with Labneh and zaatar oil………10
ENTREE
Pork and Kimchi dumplings with soy and black vinegar dressing and szechaun oil ………22
Fried squid with chilli salt, paprika, crushed peanuts, ginger aioli and asian herb salad………22
Fried gnocchi with goats cheese cream, pedro ximenez caramel and crushed walnuts………23
MAIN
Barramundi laksa with pan fried prawns, glass noodles, coriander, chilli and crispy sesame leaf (GF)………35
Three cheese and mushroom rotolo with sage beurre noisette and shaved pecorino………34
Black Angus Eye Fillet 250g served with mushroom duxelle, king brown mushroom and jus (GF)………38
SANGA
THE JENSENS REUBEN SANDWICH – Pastrami, corned beef, cornichon, cabbage, Swiss cheese, mustard pickles and Russian dressing on rye bread with chips………26
PIZZA (12″) – GLUTEN FREE BASES AVAILABLE
PORK KNUCKLE SANDWICH- Pork Knuckle, sauerkraut, beer jus and seeded mustard……..25
GORGONZOLA PIZZA – Gorgonzola, pear, walnuts and rockets………23
CLASSIC PEPPERONI – Pepperoni, nduja and mozzarella………25
CHARRED CHICKEN PIZZA – Spiced chicken with raita, pickled onion and cucumber……..24
ROYALE WITH CHEESE – Wagyu beef mince, housemade pickles, white onion, american cheese and mustard………24
SUNDAY ROAST LAMB – Roast lamb, rosemary salted potatoes, caramelised onion, mint jelly glaze and seeded mustard aioli………24
JENSENS BBQ MEATLOVERS – Chorizo, bacon, spicy salami, italian sausage and house made BBQ sauce………25
THREE CHEESE MARGARITA – Mozzarella, monterey jack, smoked mozzarella and fresh basil………22
JENSENS HAM & PINEAPPLE – Double smoked ham, charred pineapple and sriracha aioli………24
SIDES
Butter lettuce, avocado and radish salt with sriracha vinaigrette (GF) ………10
Persian fetta salad with beetroot, pumpkin, pear, rocket and palm sugar dressing (GF) ………10
Chips with chicken twistie salt………8
DESSERTS
Jensens Banana Pudding with hot butterscotch sauce and house made ice cream………15
---
VEGAN TAKEAWAY
BREAD
10inch garlic and vegan cheese pizza bread ………12
ENTREE | MAIN
Char Siu vegetable dumplings with citrus soy vinaigrette………E 20 | M 30
Fried tofu katsu with nori crumbs, soy mirin sauce and herb salad (GF)………E 20 | M 30
Mushroom, thyme and smoked cheese tortellini with sage and garlic nut butter and olive oil pangritata………E 20 | M 30
Samosa stuffed with sweet potato, corn, carrot and celery with peanut satay sauce and candied cashews………E 20 | M 30
PIZZA – Gluten free base available
12inch Vegan Pesto Pumpkin – Roast pumpkin, vegan fetta, pesto, and roasted walnuts………23
SIDES
Chips with plain salt (GF) ………8
Vegan fetta salad with beetroot, pumpkin, pear, rocket and palm sugar dressing (GF) ………10
DESSERTS
Jensens Banana Pudding with hot butterscotch sauce and whipped coconut cream………12
Cinnamon doughnuts with raspberry jam & mango sorbet………12
---
KIDS TAKEAWAY
Margherita pizza……………………………………………….14
Ham and pineapple pizza……………………………………14
Crumbed fish and chips……………………………………..14
Chicken Schnitzel with chips………………………………14