Eat. Drink. Vibes.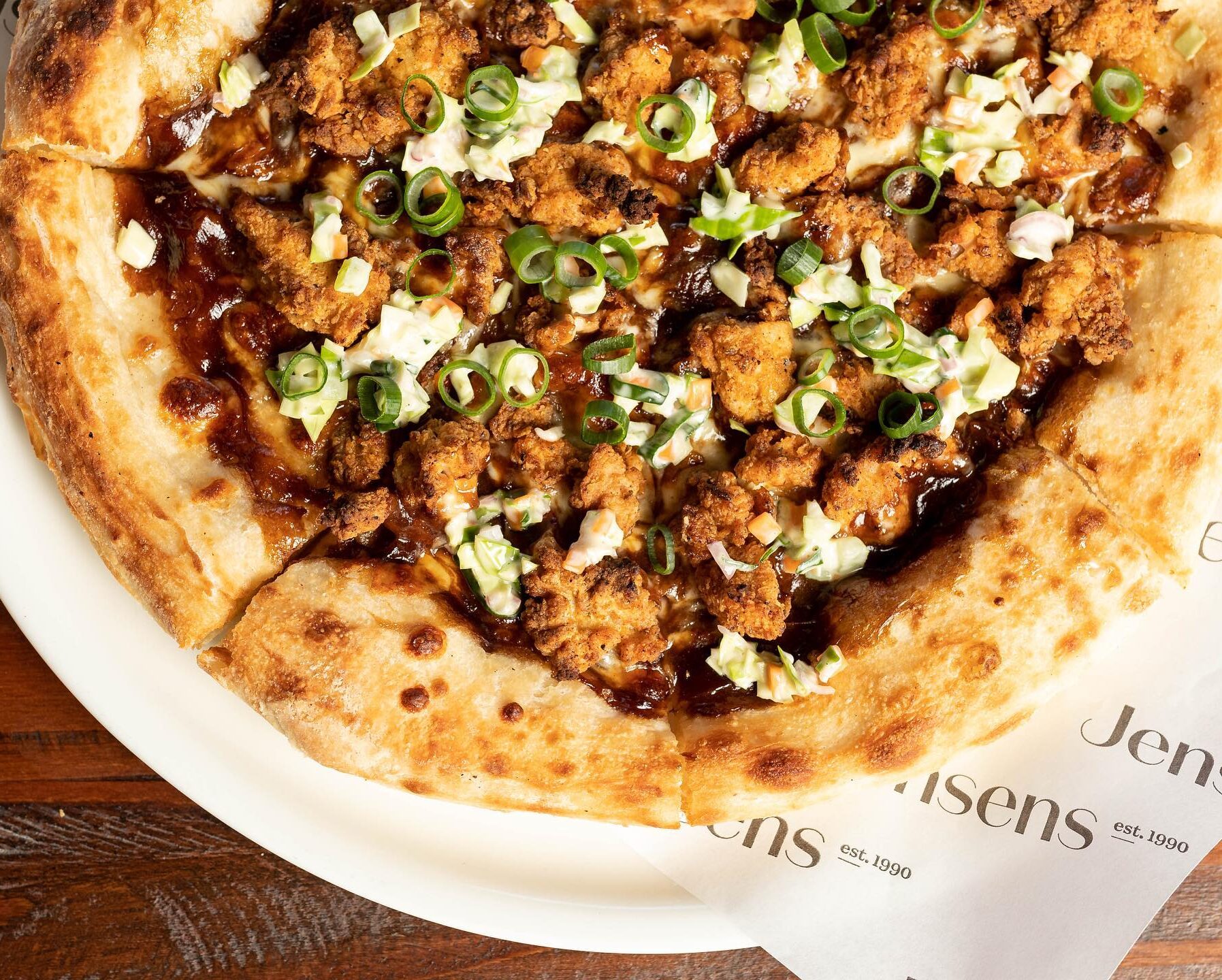 JENSENS TAKE AWAY:
Take-away operating hours are as follows:
WEDNESDAY & THURSDAY: 5:30PM TO 8:00PM
FRIDAY, SATURDAY & SUNDAY: 5:00PM TO 8:00PM
HOW TO ORDER:
Simply call 9528 8433 and collect from our front door. When you call you will be told your pick-up time and you will also receive a text message when your takeaway is ready to be picked up.
Please be aware that cook times vary due to peak periods. Times vary between 10 minutes to 30 minutes for takeaway so please factor that in to your takeaway and dining needs.
You will be asked to pay via credit card upon ordering!
Please note: We do not take pre-orders!
TAKEAWAY PIZZA (12″)
PRAWN & CHORIZO PIZZA – Prawn, Chorizo, smoked mozzarella, fresh basil and chilli salt on a smokey pink sauce base $28
NDUJA & HONEY PIZZA – Gorgonzola, Nduja, hot honey and chilli salt $26
ZUCCHINI & FETTA PIZZA – Chargrilled zucchini, fetta, capers, pinenuts and garlic bechamel $25
SUNDAY ROAST CHICKEN PIZZA — Roast chicken, lemon thyme stuffing, gravy, roast pumpkin, potato, onion and fresh thyme $28
ROYALE WITH CHEESE PIZZA — Wagyu beef mince, housemade pickles, white onion, American cheese and mustard $28
JENSENS BBQ MEATLOVERS — Chorizo, bacon, spicy salami, Italian sausage and BBQ sauce $28
THREE CHEESE MARGHERITA — Mozzarella, monterey jack, smoked mozzarella and fresh basil $25
JENSENS HAM & PINEAPPLE PIZZA — Double smoked ham, charred pineapple and sriracha aioli $26
VEGAN TAKEAWAY PIZZA
VEGAN PESTO PUMPKIN PIZZA– Roast pumpkin, spinach, pesto, roasted walnuts and vegan cheese $25
JENSENS VEGETABLE BAKE PIZZA – Rosemary salted potatoes, parsnip, roasted pumpkin, caramelised onion and vegan cheese on a tomato base  $25
VEGAN ZUCCHINI & FETTA PIZZA – Chargrilled zucchini, Vegan fetta, capers, pinenuts and garlic bechamel $25
KIDS TAKEAWAY PIZZA
MARGHERITA PIZZA  $14
HAM AND PINEAPPLE PIZZA $14
KIDS PEPPERONI $14