Eat. Drink. Vibes.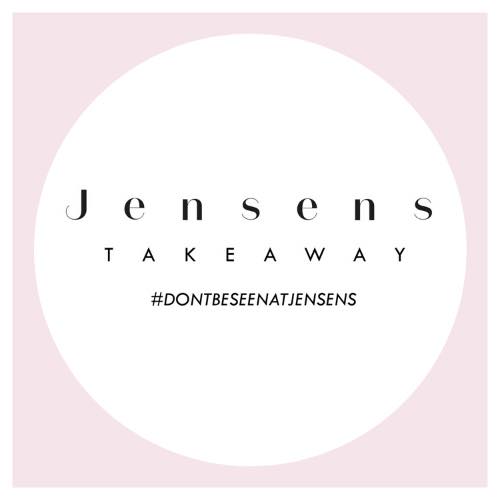 HOW TO ORDER
Simply call 9528 8433 and collect from our front door. When you call you will be told your pick-up time and you will also receive a text message when your takeaway is ready to be picked up.
Please be aware that cook times vary due to peak periods. Times vary between 10 minutes to 30 minutes for takeaway so please factor that in to your takeaway and dining needs.
You will be asked to pay via credit card upon ordering!
Please note: We do not take pre-orders!
JENSENS AT HOME: take-away operating hours are as follows:
WEDNESDAY & THURSDAY: 4:00PM TO 8:00PM
FRIDAY, SATURDAY & SUNDAY: 12:00PM TO 8:00PM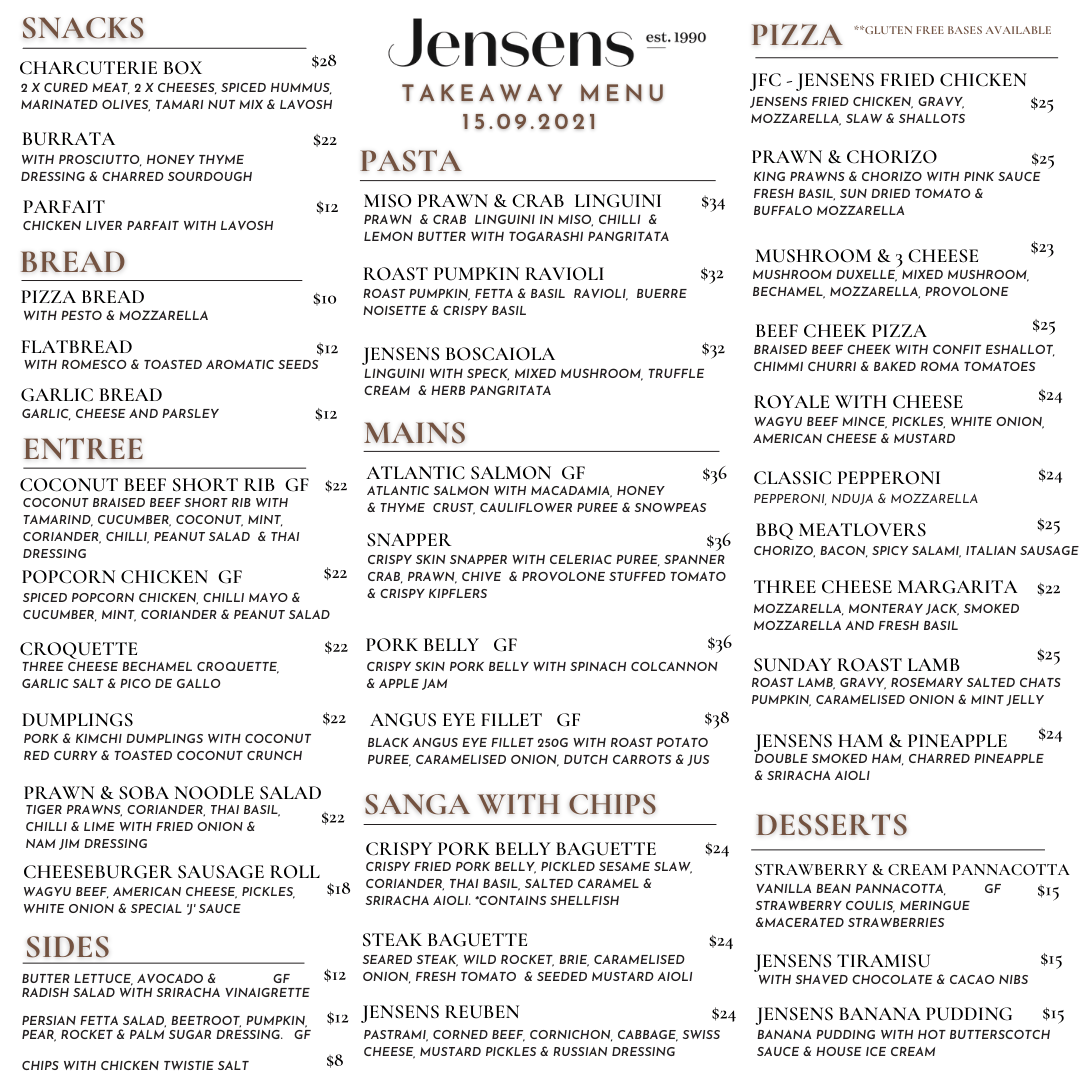 MAIN MENU
VEGAN TAKEAWAY
BREAD
10inch pesto and vegan cheese pizza bread ………10
10inch garlic and vegan cheese pizza bread …….10
ENTREE | MAIN
Vegetable dumplings with citrus soy vinaigrette………E 20 | M 30
Gnocchi Pomodoro – tomato, basil, parsley and oregano ……. E 20 | M 30
Jensens Falafels with guindilla and piquillo peppers and spiced hummus (GF) E 20 | M 30
Samosa stuffed with sweet potato, corn, carrot and celery with peanut satay sauce and candied cashews………E 20 | M 30
PIZZA – Gluten free base available
Vegan Pesto Pumpkin – Roast pumpkin, vegan fetta, spinach, pesto, and roasted walnuts………$23
Jensens Vegetable bake – Rosemary, salted potatoes, parsnip, roasted pumpkin, caramelised onion on a tomato base………..$23
Jensens Mezze pizza – Falafel crumb, cherry tomatoes and parsley on a spiced hummus base……$23
SIDES
Shoe string fries with plain salt (GF) ………$8
Beetroot, pumpkin, pear, rocket and palm sugar dressing with vegan cheese (GF) ………$10
Butter lettuce, avocado and radish salad with sriracha vinaigrette (GF) ……….$10
DESSERTS
Jensens Banana Pudding with hot butterscotch sauce & coconut cream  ………$15
Cinnamon doughnuts with raspberry jam & house-made sorbet ………$15
Fried apple empanada, cinnamon sugar, sultana crumble & house-made sorbet…..$15
---
KIDS TAKEAWAY
Margherita pizza……………………………………………….$14
Ham and pineapple pizza……………………………………$14
Spaghetti Bolognaise …………………………………………$14
Crumbed fish and chips……………………………………..$14
Chicken Schnitzel with chips………………………………$14
---
COCKTAILS AND DRINKS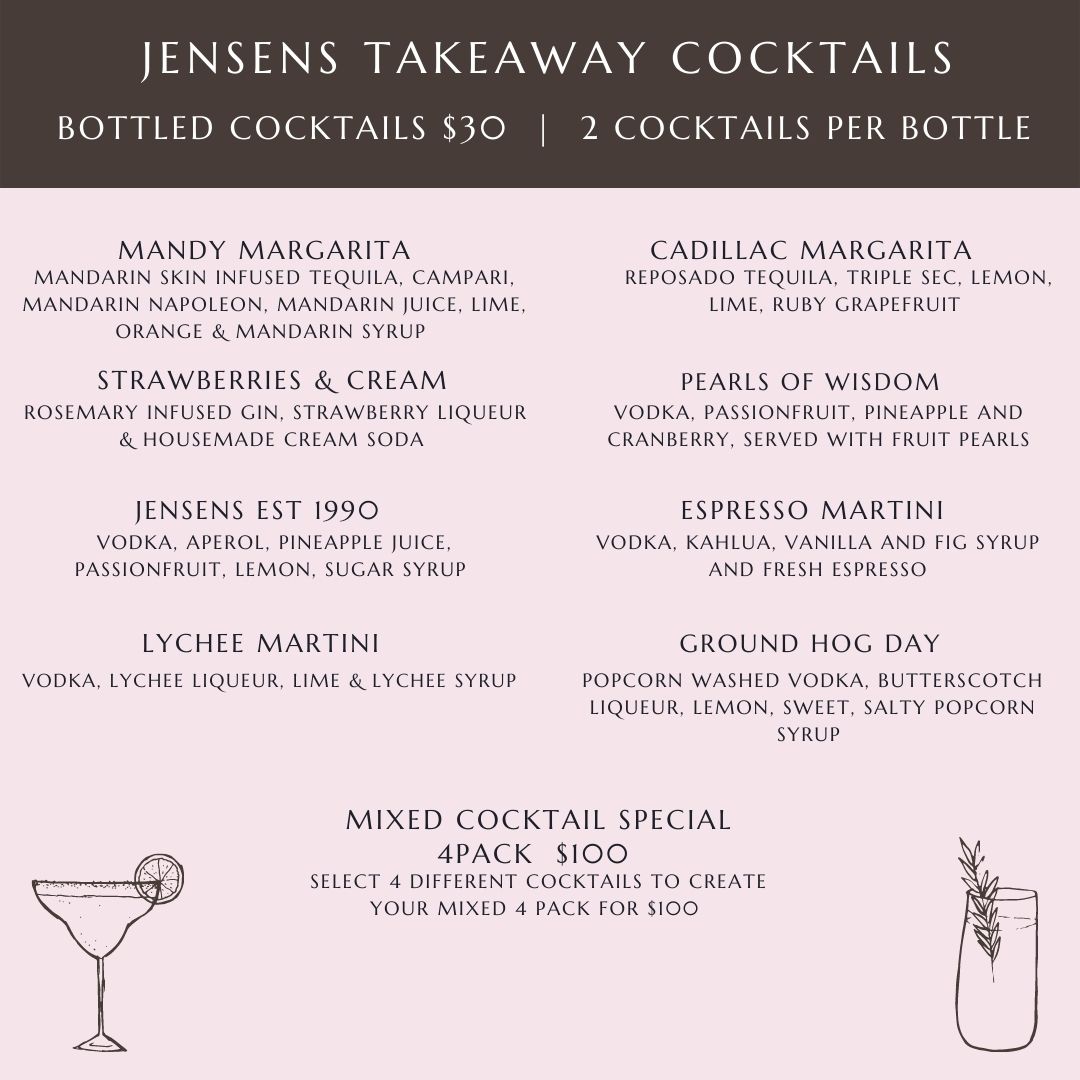 JENSENS FINE DINING AT HOME!
Our Chef prepared, finish at home boxes, are something new from the team at Jensens.
Let our chefs write the menu, plan the meal, prepare the ingredients so you can heat and eat at home…… following step by step instructions!
Please keep your eyes peeled for next weeks fine dining box option.
Our Fine Dining at home boxes are available the following days and times for pick up;
FRIDAY'S – Pick up from Jensens between 12:00pm and 5:00pm.
SATURDAY'S – Pick up from Jensens between 12:00pm and 5:00pm
SUNDAY'S –  Pick up from Jensens between 12:00pm and 5:00pm
*** Orders can be placed Wednesday / Thursday. Alternatively, Orders MUST be place by 5:00pm the day before collection.***
THIS WEEKS BOX: